Some Owners of Older iOS Devices Receiving Up to $300 in Liquid Damage Indicator Settlement
Back in April 2013, it was announced that Apple had agreed to a $53 million settlement in a class action lawsuit involving iPhone and iPod touch units that may have been improperly denied warranty coverage due to liquid damage indicators having been triggered in the devices.
The settlement, which covers iPhones denied warranty coverage on or before December 31, 2009 and iPod touches denied coverage on or before June 30, 2010, stems from Apple's use of triggered liquid damage indicators as sufficient reason for denying warranty coverage. Given the timeframe for the issue, the settlement is limited to iPhone 3GS and earlier and third-generation iPod touch and earlier models.
With the indicators' manufacturer, 3M, acknowledging the indicators could be at least partially triggered by humidity and not necessarily direct liquid contact, some owners pursued a case against Apple for improperly denying warranty coverage. Apple did later adjust its procedures to require additional visual inspection for liquid damage on devices where the indicators had been triggered, but for those who had already paid out of pocket to replace their devices, the case continued.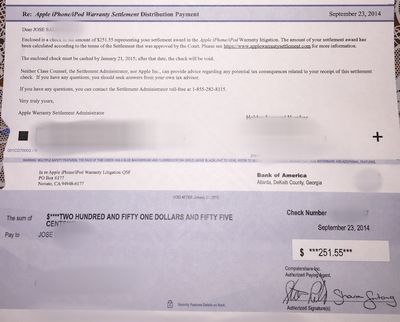 As outlined on the settlement home page, administrators finally began sending out settlement checks to eligible claimants last week, and a number of MacRumors readers have reported receiving their checks over the past few days.
Owners of several different iPhone models have reported receiving checks for $251.55, with some reporting amounts as high as $300 while others have received smaller amounts for affected iPod touch units. Users receiving checks have until January 21 to cash or deposit them.