Apple Tweaks iPod Liquid Damage Assessment Procedures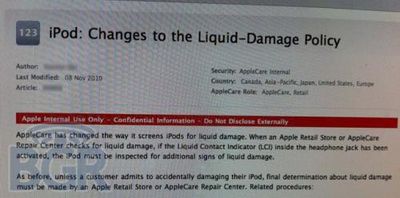 BGR reports
that it has received a screenshot of an internal Apple support document outlining a change to the company's policies regarding potential liquid damage to iPods. According to the document, Apple's usage of internal Liquid Contact Indicators (LCIs) to report direct contact with liquids is now to be augmented with additional inspection by repair staff before concluding that an actual liquid damage event, which would not be covered by warranty, has occurred.
AppleCare has changed the way it screens iPods for liquid damage. When an Apple Retail Store or AppleCare Repair Center checks for liquid damage, if the Liquid Contact Indicator (LCI) inside the headphone jack has been activated, the iPod must be inspected for additional signs of liquid damage.
As before, unless a customer admits to accidentally damaging their iPod, final determination about liquid damage must be made by an Apple Retail Store or AppleCare Repair Center.
As the report notes, it is unknown whether the revised policy also applies to the iPhone, although it seems likely that the two product lines would see similar guidelines.
Apple's Liquid Contact Indicators, which change color upon exposure to liquid, have been the subject of some controversy, with some customers, especially those living in areas of high humidity, claiming that the LCIs have activated without the devices being in direct contact with liquid. Apple's revised LCI policy appears designed to address this controversy, asking support staff to look for additional signs of direct liquid contact before making a final determination about whether repair or replacement would be covered under warranty.