Apple Apparently Working to Add Photos to iCloud.com Suite of Apps
Apple is phasing out Aperture and iPhoto on the Mac, replacing the pair with a new Photos app that is slated to debut early next year. Mac owners who want to access their iCloud photos before this new OS X app is released may soon be able to do so via an iCloud.com version of Photos that is currently under development, reports 9to5Mac.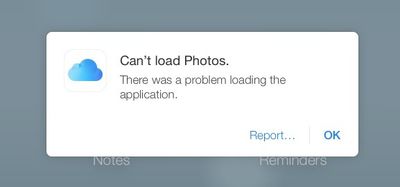 Screenshots from an Apple iCloud support document clearly show an icon for Photos, suggesting Apple is working on an iCloud version of its Photos app. Error messages obtained when trying to open the presumed URL for the app on the beta iCloud site also reference a "Photos" application that is unable to be opened.
This alert does not appear for any other URL string, so it is not simply a generic message shown for any non-existent URL. It clearly indicates that some form of 'Photos' app is in development for the website. The fact it shows only on the beta site is interesting, as iCloud Photo Library is also currently denoted as 'beta' in developer builds of iOS 8.
Details on the web app are not available, but it presumably will allow users to view and possibly manage pictures uploaded to Apple's iCloud service from an iPhone, iPad, or iPod touch. The launch date of this iCloud Photos app is, however, unknown.
Apple already offers online versions of its iWork suite including Pages, Numbers,and Keynote, with its new iCloud Drive storage feature rolling out fully when OS X Yosemite debuts later this year.