Apple today updated its iCloud Beta site for developers, adding two new web apps for iCloud Drive and Settings ahead of the public launch of both iOS 8 and OS X Yosemite.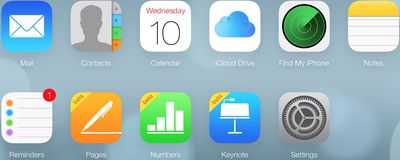 The iCloud Drive web app lets users view all of the documents that they've stored in the cloud, and provides options to upload files, create folders, and delete content. The site also includes a new "Settings" web app which gives information on a user, including Family Sharing settings and devices that are running iOS 8 or OS X Yosemite.


First announced in June, iCloud Drive is Apple's new cloud storage initiative, designed to compete with cloud storage services from Dropbox and Google. With iCloud Drive, users can store any type of document, including presentations, spreadsheets, PDFS, images, and more, accessing them from any iOS device, Mac, or PC.
The two new apps will likely be added to the official iCloud site with the launch of OS X Yosemite, which is expected to be released in October. Yesterday, Apple officially updated its iCloud Storage Plan pricing, offering 20GB of storage per month for $0.99 and 1TB for $29.99.