Google Chairman Eric Schmidt: Competition Between Apple and Google is More Brutal Than Ever
Google executive chairman Eric Schmidt and former SVP of products, Jonathan Rosenberg, recently published a new book entitled "How Google Works, which explores topics like corporate culture, strategy, talent, innovation, dealing with disruption, and more. The duo have done an interview with Bloomberg to promote the title, with Schmidt commenting on the state of affairs between iOS and Google and Apple's new larger-screened iPhones.
According to Schmidt, competition between Apple and Google is more brutal than ever before, with "enormous, enormous racing" going on between the two companies, which ultimately has "enormous benefits for consumers worldwide."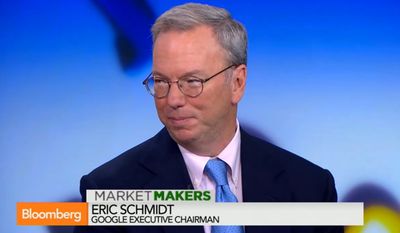 In fact I would say that this brutal competition between Apple and Google over Android and iOS has enormous benefits for consumers worldwide. If you look at the innovation on the Apple side and on the Google side, that competition which I think is the defining fight of the computer industry, it benefits global at the billions of people level.
When questioned about how he feels driving past an Apple Store and seeing people lined up around the block to purchase an iPhone, Schmidt said "I'll tell you what I think. Samsung had these products a year ago." The interviewer further notes that nobody "had a huge party" and Schmidt reiterated that Samsung had larger phones first once again. "I think Samsung had the products a year ago. That's what I think."
Re/code has also published a short excerpt from "How Google Works," where Schmidt writes about a meeting he had with former Apple CEO Steve Jobs in 2010. During the meeting, Jobs made it clear that he believed Android was based on Apple's intellectual property, and Schmidt worried that a dispute was brewing.
The two had sat outside at the California-cuisine-oriented cafe, discussing Google's growing mobile operating system, Android. Steve was convinced that the open-source operating system was built on intellectual property created by Apple. Eric responded that we hadn't used Apple's IP and had in fact built Android on our own. But his argument was to no avail. "They are going to fight us," he thought.
The excerpt goes on to detail the friendship between Jobs and Schmidt and the release of the iPhone in 2007, which led to Schmidt stepping down from Apple's board due to the similarities between iOS and Android. It also covers the differences between Apple's closed system compared to Google's open system, and why both methods work.
Apple's control model works not just because of Steve Jobs's excellence, but also because of how he organized the company. At Apple — just like Google — the leaders are product people with technical backgrounds. When you build a team of great, smart creatives, and put the world's uber-smart creative in charge, then you have a good chance of being right most of the time. And when you are right most of the time, then a highly controlled model can yield tremendous innovation.
Schmidt and Rosenberg's full 15 minute Bloomberg interview contains additional details on the relationship between Google and Apple and is well worth watching. Their new book, "How Google Works," can be ordered on Amazon for $24.