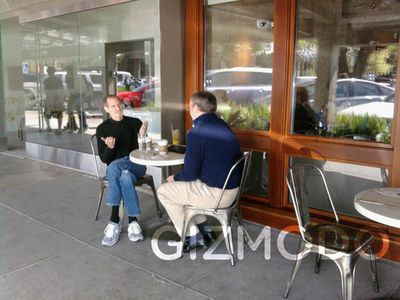 In a meeting of rival CEOs, Apple's Steve Jobs and Google's Eric Schmidt were
spotted today
sipping coffee and talking business at a Palo Alto restaurant.
Increasing tensions
between the two companies and their chief executives have apparently not stopped the two from getting together to talk business, although it is unknown exactly what their discussion was about.
Overheard from the conversation were two lines by Jobs. Enthusiastically, "They're going to see it all eventually so who cares how they get it." Which seemed to be about web content, said the tipster. And, "Let's go discuss this somewhere more private," after they noticed the crowd gathering around. I think that was probably a wise move. Schmidt was very quiet, listening, and Jobs was doing a lot of the talking.
Schmidt had been a member of Apple's Board of Directors and a close advisor to the company, but he resigned in August 2009 as the two companies began to compete in an increasing number of areas.