Shipping Estimates for iPhone 6 Pre-Orders Slipping to 7-10 Days
Pre-order supplies of the iPhone 6 in the United States have dwindled significantly since pre-orders kicked off last night, with most models of the device now displaying shipping estimates of 7 to 10 days. The new shipping estimates mean customers who place an order now will likely be receiving their phones in October rather than September.
While there are still a some AT&T and Verizon iPhone 6 models available in space gray and gold, silver models for most carriers have now sold out. T-Mobile continues to have some availability in gold, with space gray models carrying shipping estimates of 7 to 10 days.
Though it has taken nearly a day for Apple to run out of most iPhone 6 models available to ship on 9/19, supplies of the larger iPhone 6 Plus were much more limited. Apple's online store was down until just before 3 AM PT, at which point almost all iPhone 6 Plus models were showing shipping estimates of 7 to 10 days before slipping to 3 to 4 weeks just hours later.
Supplies are similarly limited in other countries where pre-orders were accepted, with the U.K. and Germany seeing iPhone 6 shipping estimates ranging from 7 to 10 days or 3 to 4 weeks based on model. New orders of the iPhone 6 Plus in those countries have shipping estimates of 3 to 4 weeks for all models.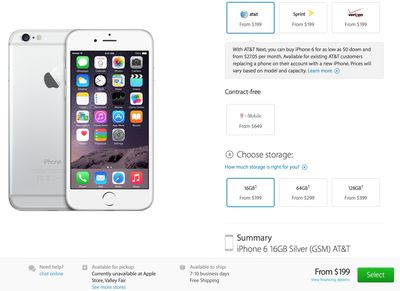 According to Apple, response to the iPhone 6 and 6 Plus was "incredible," with the company setting a new record for overnight pre-orders despite pre-order hiccups.
Though customers will no longer be able to pre-order most models of the iPhone 6 or a 6 Plus from Apple's site for delivery on 9/19, Apple will have launch day supplies at its retail stores on that date. Oftentimes, people wait in line for hours in an attempt to get a device from a retail store.
Supply of the iPhone 6 Plus seems to be similar to supply of the gold iPhone 5s last year, which became almost instantly unavailable. Unlike last year, however, there were few reports available on supply quantities.