Apple Watch Already Facing Questions Concerning User Privacy
Though it won't be released until early 2015, Apple's new wearable device is already facing public scrutiny over privacy issues. Connecticut Attorney General George Jepsen has sent a letter to Apple CEO Tim Cook asking several questions about how the Apple Watch will operate and requesting a meeting with Apple representatives.
In the letter, Jepsen addresses several issues he has with the Apple Watch, and requests that Apple explains what data the device will collect and how the information will be stored, along with its policies on apps that access health information.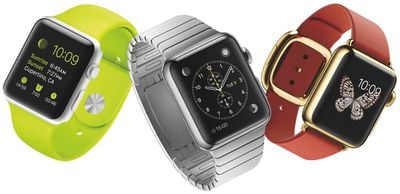 In his letter, the Attorney General noted several areas of concern, including:

-Whether Apple will allow consumers to store personal and health information on Apple Watch itself and/or on its servers, and if so, how information will be safeguarded;

-If and how Apple will review application privacy policies to ensure that users' health information is safeguarded;

-If and how Apple intends to enforce policies that require the rejection of applications that provide diagnoses, treatment advice, or control hardware designed to diagnose or treat medical conditions that do not provide written regulatory approval;

-What information Apple Watch and its applications will collect from users, and how Apple and application developers will obtain consent to collect and share such information from these individuals; and

-How Apple intends to monitor and enforce applications' compliance with its guidelines concerning users' health information.
Many of these questions actually seem to pertain more to Apple's HealthKit APIs, and several of the answers to Jepson's questions are detailed in Apple's Review Guidelines for developers that was updated in June.
In the document, Apple says that HealthKit information will not be stored in iCloud and that apps attempting to store health data in iCloud will be rejected. It also states that apps will not be able to share data with third parties without express user consent and that all apps that provide diagnoses or treatment advice will be rejected.
Introduced on September 9, the Apple Watch is designed to be both fashionable and functional, aiming to encourage its users to be more active. It includes an accelerometer and four lenses designed to monitor heart rate, with the information collected displayed in several accompanying fitness apps. The heart rate and fitness data will also likely integrate with the Health app in iOS 8, which is designed to aggregate health and fitness data from a wide range of devices that have taken advantage of the HealthKit API.
Note: Due to the political nature of the discussion regarding this topic, the discussion thread is located in our Politics, Religion, Social Issues forum. All forum members and site visitors are welcome to read and follow the thread, but posting is limited to forum members with at least 100 posts.