Trade-In Options for iPhone 6 Buyers With Old Devices
After purchasing an iPhone 6 or an iPhone 6 Plus, many upgraders will be left with old iPhones or Android phones that can be worth quite a bit of money. There are several options for trading in old devices that can significantly cut down on the cost of purchasing a new device, and most of the trade-in options are entirely hassle free. Some carriers are even offering trade-in bonuses in order to entice users to upgrade to an iPhone 6 or 6 Plus.
Verizon, for example, is offering a $200 trade-in gift card for an iPhone 4, 4s, 5, or 5c (or a $300 gift card for an iPhone 5s) with the purchase of a new iPhone 6 or 6 Plus on a new Verizon Edge agreement, on a two year contract, or with an outright non-discounted purchase.
T-Mobile has guaranteed the best trade-in values on used devices, promising to meet the best trade-in prices of other major carriers. If a customer finds a better trade-in price than what T-Mobile is offering, T-Mobile will meet the price and pay an additional $50.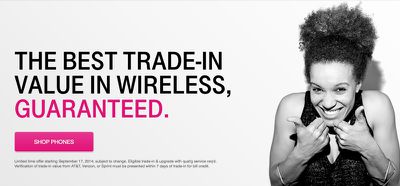 Sprint has also offered to match the trade-in policies of other carriers, and will beat buyback pricing on trade-ins for new lines of service. Under the terms of the new trade-in policy, Sprint is offering up to $300 for older devices towards a new iPhone purchase.
Like other carriers, AT&T is planning to offer up to $300 to customers trading in an old device to purchase a new iPhone 6. AT&T is also offering a $100 credit for customers that add a new line to their Next accounts.
Apple has an in-store trade-in program and an online program, with the online trade-in program offering up to $310 for a 32GB iPhone 5s in good condition. Apple's in-store program offers an immediate gift card for an old device that can be put towards the purchase of a new device.
Retailers like Target and Best Buy also have trade-in programs. Best Buy currently offers $310 for a 32GB iPhone 5s in good working condition, while Target offers $247.50 for the same device.
Along with immediate trade-ins from carrier stores, Apple retail locations, and electronic retailers, there are also countless vendors that accept trade-ins via mail. Popular trade-in site Gazelle, for example, is offering $275 for a locked 32GB iPhone 5s in "flawless" condition, or $300 for the same phone unlocked.
Amazon has a trade-in program that often offers some of the best trade-in values, but maximum value comes from accepting an Amazon gift card rather than cash. The company offers up to $347.50 for a 32GB iPhone 5s from AT&T, or up to $400 for an unlocked version of the same phone.


Apple's iPhone 6 and iPhone 6 Plus will be available for pre-order tonight at 12:01 AM PT. Prices for the smaller 4.7-inch iPhone 6 begin at $199 with a two year contract, while prices for the larger 5.5-inch iPhone 6 Plus begin at $299 on contract.