Apple is looking to expand its presence in the Pittsburgh area by possibly doubling its office space in the city, reports the Pittsburgh Post-Gazette. Apple currently operates out of the Robert Mehrabian Collaborative Innovation Center located at Carnegie Mellon University. Apple joined Intel, Carnegie Mellon CyLab and other innovators when it moved into the site in 2005 .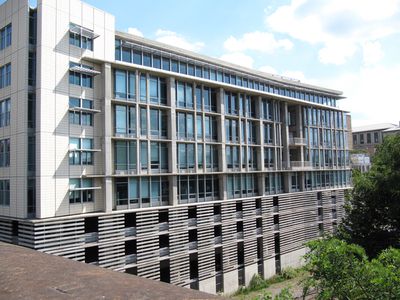 Apple's lease on the location ends at the end of the year, and there is no room for expansion at the Collaborative Innovation Center. The Cupertino company reportedly talked to Carnegie Mellon about alternative on-campus sites while also hiring a realtor to find a larger facility in a different part of the city. Apple currently leases 12,000 square feet at Carnegie Mellon and is looking to move to a location that offers up to 20,000 square feet. It is not known whether this new office will supplement or replace the current facility at the Collaborative Innovation Center.
Apple is expanding its domestic footprint on many fronts, including building a new data facility in Reno, Nevada and expanding its operations office in Austin, Texas. And just yesterday it was reported Apple is working to expand its facilities in the Boston area where it has a team working on speech recognition.
The company also is building a new corporate office in Cupertino that is under extensive construction. The highlight of the new campus is Apple's "spaceship" office building, which will occupy 2.8 million square feet when it is completed in 2016. The site also will house a 2,400 car parking garage, 100,000 square foot fitness center, 120,000 square foot auditorium, and more than 4,500 trees.