Apple Again Expanding Reno Data Center as Plans for Downtown Facility Stall
Apple is once again expanding its Reno, Nevada data center, adding several new data cluster buildings, reports Reno Gazette Journal. The upcoming expansion was documented in building permits filed recently with Washoe County.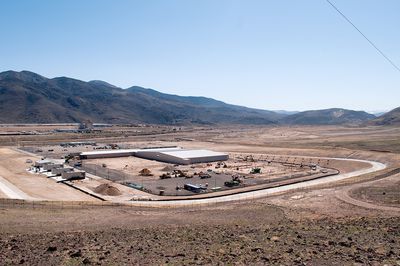 Apple's Reno data center (Source: Wired)
This new round of expansion is expected to kick off the third phase of development for the center that was approved in
2012
and went live in
2013
. Apple currently is in the second phase of construction, which is expected to be completed by the end of this summer.
"They just keep plugging along," said Trevor Lloyd, senior planner for Washoe County. "Apple keeps submitting plans … and it looks like they'll be expanding for a long time."
Apple's latest plans will boost the number of buildings on the site to nine, including eight data cluster buildings and an administration building, with plenty of room for further expansion on the 2,220-acre property.
As previously outlined by Wired, Apple's initial plans call for a cluster of eight small interconnected data buildings, which the recent building permits cover the completion of. A second facility of equal size is planned for future expansion.
Apple also is building a solar panel farm that will generate up to 18–20 megawatts of power for data center operations and will supplement the plant's current geothermal power.
While Apple improves its Reno data center operations, its proposal for a downtown facility has stalled, with Apple yet to submit building plans for a location in the Tessera District of Reno.
"I haven't heard anything and, as far as I know, no one in the city has heard anything," said Bill Thomas, assistant city manager for Reno. "I'm not saying we won't hear from them but it's been silence on their end (as of now)."
This downtown facility, which has been described as a "business and purchasing center", is part of Apple's original proposal and is required if the company is to receive up to $89 million in tax breaks on data center equipment over the next decade.