Apple Makes Gains in U.S. Smartphone Market Share as Launch of iPhone 6 Approaches
As the launch of the iPhone 6 approaches, Apple continues to hold its title as the number one handset manufacturer among consumers in the United States, making significant gains in share during the three month period ending in July.
According to ComScore's latest numbers, the iPhone had a 42.4 percent share of the market, up from 41.4 percent in April. Samsung also saw small gains, jumping to 28.4 percent from 27.7 percent in April. Meanwhile, LG, Motorola, and HTC lost share, a trend that's been ongoing for several months.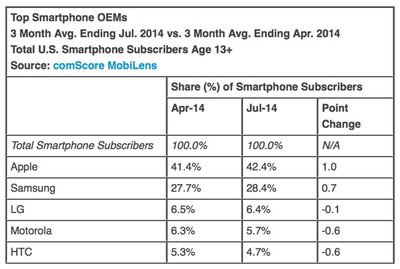 While Apple is the top handset maker, iOS has always fallen behind Android when it comes to operating system share, due to the large number of Android-based phones on the market. Apple did make headway during the July period, however, as Android lost share, dropping to 51.5 percent from 52.5 percent during the April period. iOS, meanwhile, jumped from 41.4 percent share to 42.4 percent share.


iOS is the only platform that continues to gain significant ground, with BlackBerry and Symbian losing share while Microsoft gained 0.3 percentage points.


It will be interesting to watch ComScore's numbers in the coming months, as Apple may see gains in both handset and operating system share. The company is preparing to launch the iPhone 6, which will offer larger displays of 4.7 and 5.5-inches. Display size has been one of the major features differentiating the iPhone from larger Android phones, and the increase in size may encourage a number of Android users to switch to Apple's platform.
Because ComScore's data tracks installed user base rather than new handset sales, it is more reflective of real-world usage but slower to respond to shifting market trends than some other studies.