Apple Makes Gains in U.S. Smartphone Market Share
Apple continues to be the number one handset manufacturer among consumers in the United States and has also made small gains in operating system share, according to ComScore's newest monthly survey of U.S. mobile phone users covering the February-May 2014 period.
Apple's smartphone market share increased from 41.3 percent in February to 41.9 percent in May, allowing Apple to retain its position as the top handset manufacturer. Samsung also made small gains over the period, rising to 27.8 percent share. LG, Motorola, and HTC's share fell slightly.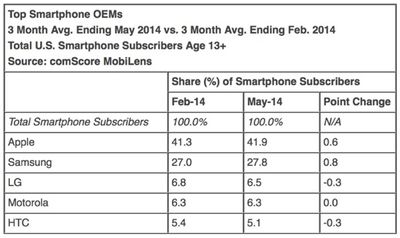 While Apple is the top handset maker, iOS has always fallen behind Android when it comes to operating system share, given the large number of Android-based phones on the market. Apple did make small gains during the period, however, rising to a new all time high of 41.9 percent, up from 41.3 percent in February. Android, in comparison, remained flat with a 52.1 percent share.


iOS continues to be the only platform to gain ground as Microsoft also experienced no growth and BlackBerry and Symbian each saw small drops in share.


ComScore's data tracks installed user base rather than new handset sales, which means it is more reflective of real-world usage but slower to respond to shifting market trends than some other studies.