Sony Unveils New Calling-Capable SmartBand Talk, Android Wear SmartWatch 3 and Lens-style cameras
Not content to allow Samsung to steal the spotlight, Sony today also kicked off the IFA 2014 conference with its own press event that unveiled new wearable devices, new smartphone photography accessories, and several new mobile devices. Sony's newest hardware is slated to arrive in the coming months with price points that are yet to be determined.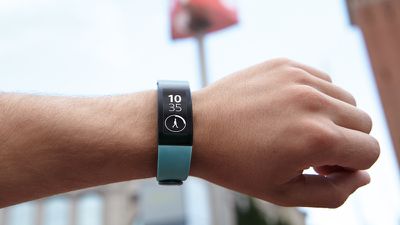 Perhaps most relevant to Apple fans given Apple's impending wearable device announcement is Sony's pair of announcements in that area, starting with the new SmartBand Talk that embeds a low-power, 1.4-inch e-ink display into a fitness tracker. The band also includes a microphone and speaker for phone calls, as well as Bluetooth 4.0 for syncing to a smartphone. Rounding out the feature set is IP68 waterproofing, accelerometer and altimeter sensors, and integration with Sony's Lifelog lifestyle-tracking app.


In the more full-featured watch segment, Sony also introduced its new SmartWatch 3, the successor to the SmartWatch 2 and the first Android Wear smartwatch from the Japanese company. The smartphone companion syncs notifications from a compatible Android device and offers 4 GB of on-the-go music storage. Sony's SmartWatch 3 enters a growing Android Wear marketplace, competing directly with similar smartwatch offerings from Motorola and LG.


Sony also added to its lens-style camera line with the new 30x zoom DSC-QX30 and the E-mount interchangeable lens ILCE-QX1, These lens-style cameras improve mobile photography by combining an image sensor with a compact lens that fits onto an iOS or Android smartphone and communicates with the mobile phone via Wi-Fi. The DSC-QX30 is a 30x optical zoom lens with Sony's Optical SteadyShot image stabilization, while the QX1 allows photographers to use their existing Sony Alpha E-mount lenses on their mobile phone.


Besides its wearables and smartphone photography products, Sony also expanded its Xperia Z-series smartphone and tablet lineup with the new extended-battery life Xperia Z3 smartphone, the Xperia Z3 Compact smartphone, and the Xperia Tablet Z3 Compact. These new Xperia devices are notable as they support PS4 Remote Play, allowing users to pair their mobile device with a DualShock controller and play PS4 games on the phone or tablet.