Mobee, a company that makes a range of chargers for Apple's peripherals, today unveiled its new Magic Hub at Berlin's IFA trade show. The Magic Hub is designed to attach to the back of an iMac or Apple Thunderbolt Display, housing four separate USB 3.0 hubs.
The Magic Hub, which matches the finish of Apple's own products, does not require an external wall adapter because it gets its power from the main power cord of the iMac or Apple Display. It's also able to recharge devices through USB when the iMac or display is powered off.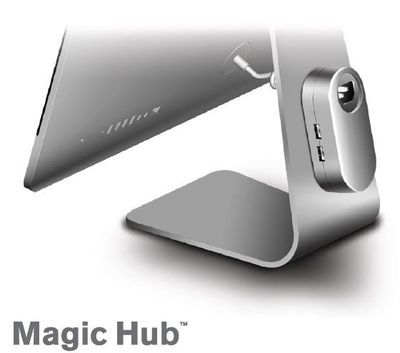 The Magic Hub features:
- 4 Ports USB 3.0 Hub.
- 2.1 Amps power output on each USB port.
- Directly powered by the Apple iMac or Apple monitor, doesn't require any additional wall adaptor.
- Remains powered while your Apple iMac or Apple monitor is turned off.
- Matches perfectly with the design and finish of Apple products.
- Doesn't restrict the swivel of your Apple display.
The Magic Hub will retail for €50, which is just over $65. The product is expected to ship in October, and should be listed for pre-order on the Mobee website shortly.