4.7-Inch iPhone 6 Logic Board Equipped With Qualcomm's MDM9625 LTE Modem
Amid all of the leaks today based on photos and videos from luxury modified iPhone vendor Feld & Volk [Instagram page], one additional point worth mentioning is the device's LTE modem. While photos posted to reveal the existence of an NFC chip from NXP has seen identifying marks on many of the other components blurred, a portion of the text printed on the LTE modem is visible, confirming the board does indeed contain Qualcomm's MDM9625M as had been previously rumored.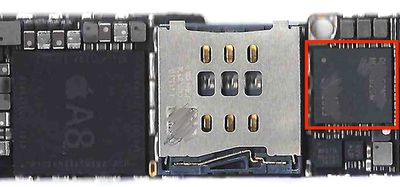 MDM9625M boxed in red
The MDM9625 is a Category 4 LTE modem, supporting speeds of up to 150 Mbps, compared to the MDM9615 Category 3 modem at up to 100 Mbps, which is found in the iPhone 5s, 5c, and 5. Some observers had been holding out hope that Apple might use Qualcomm's even faster MDM9635 Category 6 modem as is reportedly lined up for Samsung's upcoming Galaxy Alpha handset, but with Apple's history of conservatism in choosing its cellular technology and questions about production ramp-up for the MDM9635 make it unsurprising that Apple has opted for the MDM9625.

Likely WTR1625L boxed in red and WFR1620 boxed in blue
Part of the speed benefits of the MDM9625 and new LTE-Advanced technology compared to earlier generations of modems comes from the use of carrier aggregation to combine channels for greater bandwidth. With the MDM9625, this carrier aggregation requires a pair of companion chips, a WTR1625L transceiver chip and a WFR1620 chip. These chips appear to be located on the opposite of the iPhone 6 logic board from the LTE modem itself.
On the whole, the use of the MDM9625 in the iPhone 6 sets the stage for faster cellular data connectivity as networks are built out to support its capabilities, and Apple will likely tout some of these improvements during its media event scheduled for September 9.
(Thanks, chrmjenkins!)