Inside Apple's PR Practices, From Media Control to Attitude Shift Under Tim Cook
In a lengthy 9 part exposé, 9to5Mac's Mark Gurman delves into the inner workings of Apple's PR team. While much of what Gurman covers is already fairly well known, his coverage provides an expansive look at the way Apple's PR team operates, from its organizational structure to its efforts to control Apple's perception through media manipulation.
Despite Apple's size and its position as one of the most profitable companies in the world, its PR team is relatively small, comprised of approximately 30 employees in Cupertino along with a few dozen scattered around the world. In Cupertino, Apple PR is divided into seven teams: Momentum, Mac, Corporate Communications, iPhone, iPad, iTunes, and Events.
Along with organizing events and controlling product placement, Apple's PR teams keep a close eye on the media, despite its apparent indifference, and take steps to correct negative perceptions when deemed necessary.
So it's a surprise that Apple actually isn't that detached from the media: it's more like a teenage girl obsessively keeping her fingers on the pulse of coverage. Members of Apple PR seek tabloid photos of celebrities holding iPhones, while others read Apple-focused blogs actively, and keep tabs on prominent Apple beat writers using anonymized social media accounts. [...]

This oversight is so important to Apple that a few times a week, top executives are sent a document detailing the company's latest press coverage. When Apple is not pleased with coverage, it sometimes works to shift the narrative, even attempting to undermine giant news organizations.
For example, Gurman claims that Apple recently attempted to discredit Reuters over a story about Apple's accessibility practices that the company was not happy with. Gurman also points Apple's penchant for discrediting competitors, pointing towards an email Apple PR sent to 9to5Mac on an anti-Android story.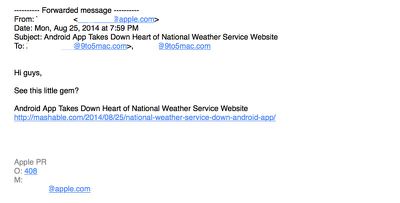 Along with giving tidbits of information to various reliable media outlets, Apple also gives review units and review guides to columnists and journalists who Gurman claims have a largely positive view of the company and its products.
Also likely contributing to which publications get early access to products is the nature of pre-coverage -- angles taken by writers during the product rumors cycle. As Brian Lam put it, "Apple can already tell what a review is going to say from [a publication's] pre-coverage, and they're not going to give you a review unit if you're not going to play ball." In other words, Apple feeds the writers who will do its bidding, and starves the ones who won't follow its messaging.
In addition to delving into details about Apple's apparent media manipulation, Gurman also covers the shift in attitude as the company has transitioned from Steve Jobs' leadership to Tim Cook's. This has included the retirement of Katie Cotton, who was reportedly seen as a "tyrant" by her employees. Cotton, who was close to Steve Jobs, apparently did not mesh well with Tim Cook's desire to portray Apple as a "friendlier" company, leading to her departure.
Apple is said to be searching for a new head of PR to replace Cotton, and in the meantime, Apple's PR teams are run by two longtime employees who report directly to Cook. Under Cook, Apple's internal policies have shifted somewhat, from his direct apology for the Apple Maps app to his efforts to discredit Yukari Iwatani Kane's anti-Apple narrative Haunted Empire: Apple After Steve Jobs.
Gurman's full examination of Apple's PR team is well worth a read and covers a large range of topics. A list of links to the 9-part series is below:
- Apple Events and Shredded White Booklets
- Introducing the Teams: How PR is Organized at 3 Infinite Loop
- Strategies: The "Art of Deep Background" and Controlling the Press
- The Departure of a "Tyrant"
- Two Heads in Place of One
- Controversies: From Maps to Beats to Haunted Empires
- Product Reviews, Briefings, & Reviewer's Guides
- Steve Jobs and the Process Behind Press Releases
- A Friendlier, More Transparent Future?