Apple has been granted a patent for the design of its iconic glass cube Fifth Avenue retail store, reports Patently Apple.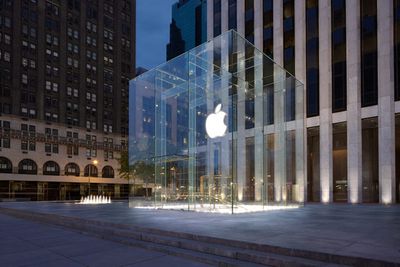 The decision comes four years after Apple applied for a trademark related to the store's design, which is still currently pending. The panted granted today was originally filed on October 15, 2012 and credits eight inventors including former Apple CEO Steve Jobs.
Apple's Fifth Avenue store opened on May 19, 2006 and was designed by architectural firm Bohlin Cywinski Jackson. Due to a structural overhaul that took place in 2011, the location currently uses 15 panes of glass as opposed to 90 used in the original cube. The renovations on the newer cube also did away with nearly all of the hardware that previously held the original panes together, resulting in a "seamless" design.