Apple's New Fifth Avenue Store Cube Fully Revealed [Update: Video]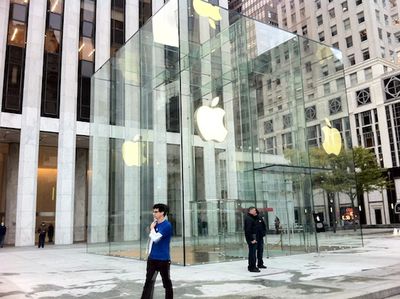 While Apple's Fifth Avenue retail store in Manhattan is not set to reopen until 10:00 AM this morning, crews have completed their work on the revamped glass cube, fully revealing the streamlined design for the first time.


MacRumors reader Vincent sent along these photos of the new cube, which utilizes only 15 panes of glass rather than the 90 used in the original cube. The new cube is also "seamless", doing away with nearly all of the hardware that previously held the panes of glass together.
In addition to the new cube, Apple has also upgraded the plaza, refreshing or installing new water drains and pavers while removing the small bollards that had previously surrounded the cube.
Update: YouTube user patjem2 has posted a brief video showing the new cube and a growing crowd of customers just prior to the store's reopening.
A
second video
also shows the first customers entering the newly-reopened store through the updated glass cube.