Schematics Allegedly Reveal M7 Successor Chip 'Phosphorus'
Apple is unsurprisingly working on a new version of the M7 co-processor for the upcoming iPhone 6, claims GeekBar (Via G 4 Games) in a post on Weibo. In this latest report, a new set of schematics allegedly showcase this new co-processor chip, which is internally labeled "Phosphorus."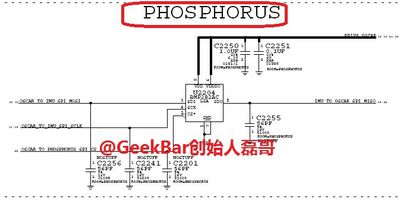 GeekBar claims "Phosphorus" will be the successor to the M7, collecting motion data as well as processing other health-related information handled by Apple's new HealthKit API. This chip potentially is the power behind Apple's new Health app for iOS 8, which will import data from the iPhone and other third-party devices in order to create an overview of the user's health.
Apple introduced its new Health tracking app and its HealthKit API at WWDC in June. Besides encouraging developers to build health and fitness-related functionality into its device, Apple also may be talking to hospitals, health institutions and insurance companies in order to expand its HealthKit initiative beyond the user's device. In one scenario, data from the Health app could be shared with a health insurance companies in order to lower a healthy subscriber's monthly premium.
Update 9:29 AM: The "Phosphorus" component actually appears to be a barometric pressure sensor, not a next-generation M7 chip.