Apple Suppliers 'Scrambling' to Produce Enough iPhone 6 Displays After Issues With New Backlight
Apple's supply chain is scrambling to get enough displays ready for the iPhone 6 ahead of its launch next month, reports Reuters.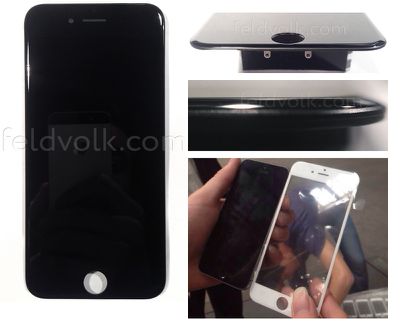 Front panel said to be from the 4.7-inch iPhone 6


The report notes that production issues were made prevalent when the backlight film for the device's display panel had to be redesigned, halting production for two months:
Two supply chain sources said display panel production suffered a setback after the backlight that helps illuminate the screen had to be revised, putting screen assembly on hold for part of June and July. One said Apple, aiming for the thinnest phone possible, initially wanted to cut back to a single layer of backlight film, instead of the standard two layers, for the 4.7-inch screen, which went into mass production ahead of the 5.5-inch version.
After the backlight film component was revised, Apple reportedly rejected it and went back to add the second layer to the panel causing a delay. As it stands, production of the display has resumed as suppliers are attempting to work quickly to make up for lost time before the device's launch.
Concerns over the iPhone 6's backlight design surfaced last month from supply chain, which also suggested that Apple's desire to use only one backlight film to minimize the size of the handset would cause production delays. Current generation iPhone displays are supplied by Minebea and use two layers in order to improve readability in these backlit displays.
In a single layer setup for the device's display, one layer has to be of a very high quality to take the place of the standard second layer. To meet the demand for the part, Apple had allegedly gone to OMRON and Radian to add them as suppliers alongside Minebea, however the outcome of that effort is not known. Previous reports of production issues surrounding the iPhone 6 had pinpointed challenges with the device's in-cell touch panel and metal casings.
Apple is expected to unveil the iPhone 6 at an event on September 9, with a launch for the 4.7-inch version likely come a week later. It is unclear if the 5.5-inch version will ship at the same time, as Apple is also said to be experiencing other production issues with the larger device. Both models of the iPhone 6 will likely feature a thinner, rounded chassis and incorporate a new A8 processor, a refined camera, and iOS 8.