Alongside the new NFL Now channel on the Apple TV debuting today, ESPN has also expanded its WatchESPN channel to include support for college sports with the SEC Network and Longhorn Network.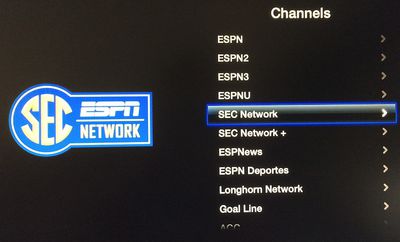 The SEC Network is a brand-new television network created through a partnership between the Southeastern Conference and ESPN. The network launched last week ahead of the 2014 college football season with plans to cover at least 1000 live events per year from the conference's 21 sports. The network consists of a standard SEC Network channel, which mirrors featured content from the SEC Network television channel, as well as an SEC Network + channel with additional coverage.


The Longhorn Network is focused solely on the University of Texas at Austin athletic program and is also produced in partnership with ESPN. The network is entering its fourth year of availability, but has just been added to the WatchESPN online service this season.
Both networks were added to the WatchESPN iOS app last week, but it has taken a few extra days to make their way to the Apple TV channel. Access to the content is limited to those who have television subscription packages that include the corresponding channels.