'NFL Now' Launches on Apple TV With Breaking Football News and Highlights
The National Football League earlier this month officially launched its NFL Now service, its next-generation video streaming service that provides access to the largest digital library of NFL videos available online. The video content can be viewed on the iPhone, iPad, Mac (via a web browser) and other connected devices such as Roku, Amazon Fire TV, and as of today, the Apple TV channel that was leaked earlier in the month.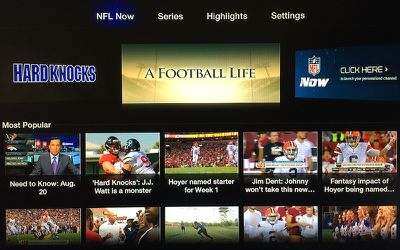 The NFL Now service delivers historic videos, breaking news, game highlights and original programming from the NFL Now studios. Personalization is a key feature -- allowing users to follow their favorite players and teams, with up to 4,800 minutes of team coverage being pushed across their screens each week. The service also will provide live video coverage of important press events and other important moments from the NFL. It will not live stream NFL games that are in progress. Customers who want to watch games as they are happening must download the NFL Mobile app [Direct Link].
NFL Now is available in two tiers, with the free NFL Now service providing access to the core news and video content. Football fans who want even more content and personalization can subscribe to the $1.99 monthly NFL Now Plus service, which offers instant in-game highlights, access to NFL Films videos and the ability to create custom video streams featuring their favorite teams or players.
iPhone, iPad and iPod touch users can download the NFL Now app [Direct Link] from the iOS App Store for free. Mac users can get their fill of NFL coverage via the NFL Now website, while Apple TV channels can access the new channel directly from the main screen on their set-top boxes.