Apple's Share Price Hits $100 for the First Time Since June Stock Split
Apple today saw its stock hit the $100 mark for the first time since its seven-for-one split that took place in early June. Following the split, Apple was trading at roughly $92 a share, but since that time the stock has trended upward until hitting the $100 mark today.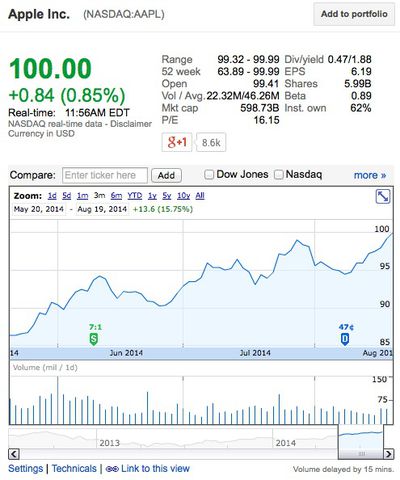 The company is also very close to an all-time high stock price, accounting for the stock split. Apple's all-time intraday high was set on September 21, 2012 at $100.72 ($705.07 on a pre-split basis), and the all-time high closing price was set just a few days earlier on September 19 at $100.30 ($702.10 pre-split).
Even as Apple sits at almost record high share prices, the company is not ready to set a new high for overall market capitalization, which is calculated as the share price multiplied by the number of shares available. That is due to Apple's aggressive stock buyback program that has seen the company reduce its share count by almost 600 million over the past two years.
The move is intended to boost value to investors by reducing share supplies while also putting to use some of Apple's vast cash holdings. Much of the share repurchase program is, however, being financed by low-interest debt, as the majority of Apple's cash is currently held overseas, and it would be considerably more expensive for Apple to pay required taxes on that cash to bring it home for domestic uses than to simply pay for the repurchase program out of its ongoing domestic earnings over time where tax is already being paid.
The repurchase program has also signaled to investors that Apple has believed its stock to be undervalued, demonstrating the company sees purchasing its own stock as a better use of cash than other investment opportunities. And finally, reducing share counts also eliminates future dividend payments that would have been made on those now-retired shares, providing an additional financial benefit to the company.
Update 1PM PT: Apple's stock price closed at an all-time high of $100.53, breaking its previous closing high of $100.30 ($702.10 pre-split) set on September 19, 2012.