Sprint Announces New Data-Heavy Family Share Pack Plan With Incentives for New Subscribers
Sprint today announced the debut of a new Sprint Family Share Pack plan, aiming to draw customers by offering significant amounts of data. Sprint's new plan provides customers with 20GB of shared data, which is double the amount that Sprint offered with its previous Framily plans.
For a limited time, customers who switch to Sprint will get the 20GB of shared data plus an additional 2GB of data per line for $100 per month until the end of 2015, with support for up to 10 lines (including a waived $15/month device fee). That equates to 40GB of shared data for 10 lines, up from the 1GB per line Sprint originally offered under its Framily plans.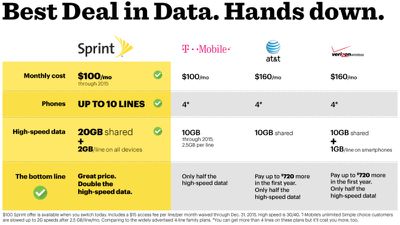 The Sprint Family Share Pack, offering double the high-speed shareable data for smartphones, basic phones, tablets and mobile broadband devices, will be available starting Aug. 22. For example you can get four lines and 20GB of data for $160 compared to 10GB of data for the same price from AT&T or Verizon.

But wait, there's more. To kick off Sprint's "new day for data" campaign, Sprint is offering a limited-time promotion for the Sprint Family Share Pack: For a family with up to 10 lines, get 20GB of Shared Data and Unlimited Talk & Text for only $100 a month through 2015 – and, as an added bonus, customers will get an additional 2GB per line for up to 10 lines. For a family of four, that's a savings of $60 per month better than AT&T's and Verizon's current pricing through 2015; double the data of Verizon; and more than double the high-speed data of AT&T and T-Mobile.
To further sweeten the deal and attract new users, Sprint is offering up to $350 (via Visa Prepaid Card) to cover early termination fees for users switching from other carriers. Sprint's device fees are still applicable, requiring both Easy Pay users and those who sign up for subsidized phones to pay device fees in the range of $15 to $25 (minus the $15 discount).
While the promotional $100/month price is only for new customers, existing Sprint subscribers can get 20GB of shared data for up to 10 lines for $160 per month. Current subscribers cannot, however, get the 2GB of bonus data being offered to new customers. A full breakdown on pricing:


Sprint's website also promises to bring more "great announcements" in the near future. Sprint's new CEO, Marcelo Claure, has pledged to bring more disruptive pricing to Sprint following its failed merger with T-Mobile.
Sprint's new plan will be available beginning on Friday, August 22.