Earphones Filled With Health and Fitness Sensors Ready to Flood the Wearables Market
As Apple moves closer to launching its rumored health and fitness oriented iWatch, there has been significant focus on the types of sensors Apple might be looking to deploy. Among the intriguing options have been sensor-equipped earphones, which Apple has filed patent applications on in the past and which saw renewed attention following the posting of an unfounded rumor about EarPods with embedded biometric sensors earlier this year.
Earphones with health and fitness sensors do continue to be a topic of interest, and other manufacturers are preparing to bring their own products to the wearables market later this year. One biometric headphone attracting attention is a new offering from Intel and SMS Audio, which has musician 50 Cent as a co-founder (via Re/Code).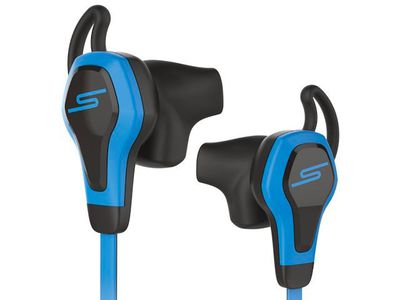 The SMS Audio BioSport In-Ear Headphones include heart rate monitoring powered by Intel technology and feature SMS Audio's high-quality sound, comfort and fashion. The ear buds will use a combination of sensors, including an optical light sensor, to measure both resting and active heart rates. Powered by the smartphone's audio jack, the headphones will share their data with a variety of third-party apps, with RunKeeper integration available at launch.
Intel and SMS Audio may be among the biggest names entering the sensor headphone market, but they are not alone. Earlier this year, LG released its own Bluetooth-connected, heart-rate-measuring earphones with mixed reviews. Hitting the market later this year are wireless Smart Earphones from FreeWavz, which monitors heart rate and other key fitness metrics. The Kickstarter-backed product reached its funding goal earlier this month and has a target ship date of October 2014.
Beyond the ultimately false rumor of EarPods with biometric sensors and Apple's patent applications dating back a number of years, the company also recently hired former MIT researcher Eric Winokur as a Sensing Hardware engineer. Winokur is known for his work on wearable medical devices, including ear-worn sensors for cardiovascular monitoring. It is not known, however, whether Winokur is continuing his work on ear-worn sensors at Apple or if he is contributing more broadly to the biometrics team working on the iWatch.