This Week's Buyer's Guide includes deals on the Retina iPad mini, the iPad Air, the 2013 Retina MacBook Pro, the 2014 MacBook Air, and several different Apple accessories.
There aren't many deals on the iMac, the iPad, or the 2014 Retina MacBook Pro this week, but make sure to check back next week for new discounts because prices tend to fluctuate on a week-to-week basis.
Retina iPad mini
Best Buy is offering $50 off all of its Retina iPad mini models, dropping the price on the 16GB Wi-Fi only Retina iPad mini to $350. The deal includes all of the cellular Retina iPad mini models as well, dropping the price on the entry-level cellular model to $479.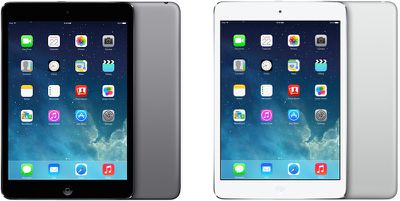 MacBook Air
A few sites are offering deals on the 2014 MacBook Air this week, dropping the price as much as $150. The 11.6-inch 1.4Ghz/4GB/128GB MacBook Air is available from B&H Photo and Adorama for $799, down from $899.
The 13-inch 1.4Ghz/4GB/256GB MacBook Air is available for $1,049 from Best Buy and Amazon, a discount of $150.


Retina MacBook Pro
Last week, several sites were offering lowered prices on the new 2014 Retina MacBook Pros, but those deals have since expired. Luckily, it's still possible to get a solid deal on the older 2013 Retina MacBook Pros.
The 13-inch 2.4Ghz/8GB/256GB Retina Macbook Pro can be purchased from Best Buy, B&H Photo, or Adorama for $1,299. The 2013 2.0GHz/8GB/256GB 15-inch Retina MacBook Pro can be purchased for $1,599 from B&H Photo and Adorama, the lowest price we've seen on that model yet. Finally, the high end 2013 15-inch 2.3Ghz/16GB/512GB Retina MacBook Pro is available for $2,249 from Amazon, Adorama, B&H Photo and MacMall.
B&H and Adorama, as always, are a good choice for buyers who live outside of New York and New Jersey, as the sites only charge sales tax in those states.
Mac Pro
Stock configurations of Apple's Mac Pro desktop computer are available at slightly discounted prices from B&H Photo, with the site offering the 6-core 3.5Ghz/16GB/256GB machine for $3,749 and the 4-core 3.7Ghz/12GB/256GB machine for $2,849.
Apple Accessories
The Mophie Space Pack 64GB Charge Case for iPhone 5/5s is availavle for $200 from Mega Macs, a discount of $49. The Pelican Vault iPhone 5 case is available for $11.99 from Groupon, a savings of $68.


The Griffin Survivor Case for the iPhone 5/5s is available for $14.99 from Living Social, and the Lifeproof Nuud case for iPhone 5/5s can be purchased for $49 from Daily Steals. Woot is selling the Kensington PowerBolt Car Charger for $5.99, and the site is also offering the Kensington PowerBolt Fast Charge Coiled Car Charger for $7.99. Finally, Logitech's Rechargeable Trackpad for Mac can be purchased for $29 from Daily Steals, a savings of $10 off the Amazon price.
MacRumors is an affiliate partner with some of these vendors.