Apple CEO Tim Cook, Phil Schiller Take On 'Ice Bucket Challenge' to Promote Awareness for ALS
Apple CEO Tim Cook today took the "Ice Bucket Challenge," which is designed to raise awareness for amyotrophic lateral sclerosis or ALS, also commonly known as Lou Gehrig's Disease.
The challenge asks people to pour buckets of ice water over their heads (documented on film and shared on social media sites) and then tag three friends to do the same. Friends unwilling to complete the challenge are asked to donate money towards ALS, but as noted by The Verge, many participants have chosen to participate and donate money to the cause.
According to Instagram and Twitter photos, Tim Cook had a bucket of ice water dumped on him at Apple's Cupertino campus this afternoon during the company's bi-weekly beer bash while Vanilla Ice's Ice Ice Baby played in the background. Cook was first challenged yesterday by Apple marketing chief Phil Schiller, who completed the challenge himself.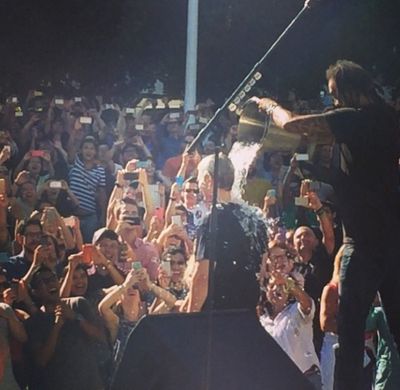 Schiller, who dumped a bucket of ice water over his own head at a beach in Half Moon Bay, also challenged actor Chris O'Donnell and his wife Kim. Cook has
gone on to challenge
Apple board member Bob Iger, musician Michael Franti, and Beats co-founder Dr. Dre.

Phil Schiller takes the challenge
Many notable celebrities and tech industry leaders have completed the ice bucket challenge in recent weeks, including Facebook founder Mark Zuckerberg and Microsoft CEO Satya Nadella. As of August 12, the challenge has raised more than $4 million in donations.
Update: Apple has posted a full video of Cook and Franti taking the challenge.