Apple Meets With Thai Officials to Discuss 'iPhone 6' Approval Disclosure
According to a report from Thailand's Thai Rath newspaper [Google Translate], Apple has already met with officials at the country's National Broadcasting and Telecommunications Commission (NBTC) to discuss the recent disclosure that two iPhone 6 models have been approved by the government agency for import into the Asian country.
NBTC secretary Takorn Tantasith earlier this week released the approval information on two "iPhone 6" models A1586 and A1524, reportedly in accordance with guidelines that require the public announcement of approved hardware. The declaration, which he also broadcast on Twitter, contained only the product name and model numbers, but no other details about the iPhone 6 handsets. As noted by several observers, the iPhone 6 approval was the first time a specific device was named in a Tweet by the NBTC secretary, making it an obvious deviation from usual practice.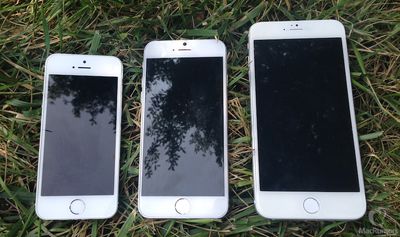 4.7-inch and 5.5-inch iPhone 6 mockups compared to iPhone 5s
Apple is unsurprisingly upset with this public notification, claiming the disclosure released confidential information about its upcoming handset. The NBTC secretary countered Apple's assertion, arguing that that these announcements do not reveal confidential product details and are meant to protect consumers. He said Apple would be within its rights to penalize Thailand for this leak by canceling its plans to release the iPhone in Thailand later this year, but he stands by his decision to disclose the approval. Translation by a
MacRumors
reader:
The Secretary General said that everything is done according to the protocol and on August 8 the NTBC has approved the two phone models. He insisted that all that was disclosed is not considered a trade secret and Apple only requested for the specification to remain a secret. As for the specs, the NBTC did not disclose anything.
Apple requested a meeting with NBTC officials to discuss the situation, with Apple emphasizing that the new device may not necessarily be called "iPhone 6" but otherwise resolving the matter.
Mr. Takorn said that representatives from Apple South Asia from the Singapore HQ arrived to "have a chat" with him and clarified that the 2 phone models may not use the name "iPhone 6" to market and the company want to make sure that the NBTC understands this fact. Apple in Singapore will also explain the situation to Apple in the US about this matter. Apple also reassured the NBTC that this "leak" has no effect in Apple's plan to launch and sell the iPhone in Thailand.
Rumors suggest Apple is working on two iPhone models for release in the upcoming months. The next generation handset is expected to be unveiled during a September 9 press event with a 4.7-inch model slated to go on sale shortly after the announcement. A larger 5.5-inch model may debut alongside the smaller model or up to a few months later.
(Thanks, @TonsTweetings!)