Apple Honors Robin Williams With iTunes Store Section Featuring More than 40 Movies, Comedy Routines [Updated]
Following the tragic news of the death of Oscar-winning actor Robin Williams, Apple has created a "Remembering Robin Williams" dedicated section of the iTunes Store housing many of the actor's popular movies and stand up comedy routines.
Along with offering movies organized into categories like "Essentials," "Comedy," and "Drama," the Robin Williams iTunes Store section includes a photo of the actor along with a short paragraph on his decades-long career and his involvement in Comic Relief USA, a charity that's raised upwards of $50 million for homeless assistance.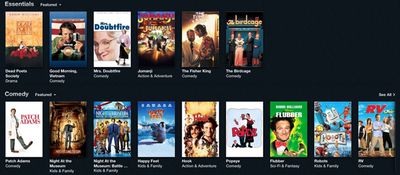 One of the most beloved and unforgettable performers in the history of show business, Robin Williams brought laughter and inspiration to millions. Throughout a career that spanned five decades, Williams evolved from stand up comedian to international movie star. Among the great masters of improv, he transfixed audiences with a mile-a-minute comic energy. Williams' Golden Globe-winning turn in Good Morning, Vietnam demonstrated that his versatile acting talents were equally suited to evoking dramatic complexity. Many of Williams' most iconic performances--in Dead Poets Society, Mrs. Doubtfire, and his Oscar-winning triumph Good Will Hunting--were dazzling high-wire acts that left audiences in tears of laughter one minute and tears of poignancy the next.
In the iTunes Store section dedicated to Williams, Apple lists more than 40 of his movies like Dead Poets Society, Mrs. Doubtfire, Jumanji, The Birdcage, Patch Adams, Good Morning, Vietnam, and more, along with a handful of his comedy performances.
Robin Williams' performance in Dead Poets Society is of special importance to Apple as his character, John Keating, delivered the famous "What will your verse be?" speech that inspired its "Your Verse" line of iPad advertisements. Williams also provided the voice over for one of the commercials, which began airing back in January.
Yesterday, Apple CEO Tim Cook
tweeted
about Williams' death, calling him an "incomparable talent and a great human being." Phil Schiller
also expressed
his regrets over the tragedy.
Heartbroken by the news of Robin Williams' passing. He was an incomparable talent and a great human being. Rest in peace. — Tim Cook (@tim_cook) August 12, 2014
Update:
Apple has also
dedicated a page on its website
to Robin Williams with the following:
We are deeply saddened by the passing of Robin Williams. He inspired us through his passion, his generosity, and the gift of laughter. He will be missed.
This is one of the few times Apple has honored someone's life with a page on its website, with the others being Nelson Mandela, Rosa Parks, board member Jerry York and Steve Jobs.