Apple Continues to Dominate Enterprise Market Despite Android Gains
Apple's mobile operating system continues to dominate the enterprise sector, according to new numbers in Good Technology's latest Mobility Index Report [PDF], but Android has made enterprise market share gains at Apple's expense. Android's rising share of the enterprise market shows the wisdom behind Apple's recent IBM deal, which will see the two companies partnering up for custom enterprise apps.
iOS activations represented 67 percent of total global device activations, but Apple's numbers were down five percent quarter over quarter. At the same time, Android saw a five percent gain, with Android devices representing 32 percent of total device activations. Windows activations were at just 1 percent, while Blackberry activations were unable to be measured by Good due to their usage of the BlackBerry Enterprise Server.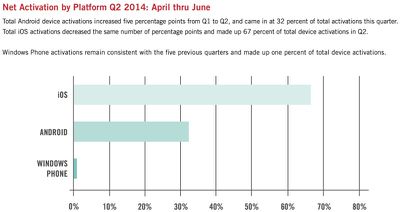 Broken down, iPhone activations were at 51 percent of total activations, while iPad activations represented 16 percent of total activations (and 90 percent of total tablet activations), a slight decrease from the previous quarter. Android smartphones represented 30 percent of total activations, with Android tablets comprising just a few percent of total activations.


As for apps, iOS enterprise app activations were responsible for 88 percent of total app activations during the quarter, while Android app activations were at 12 percent of total enterprise app activations, a shift of four percentage points from iOS to Android.
Though Apple's enterprise numbers have seen a slight drop in the current quarter, its share of the enterprise market is poised to grow substantially over the coming months thanks to its recent partnership with IBM.
In addition to selling iOS devices to its corporate customers, IBM has plans to create more than 100 industry-specific native apps built from the ground up for the iPad and the iPhone, which will undoubtedly draw more enterprise customers looking for customized experiences. According to Good's survey, custom app activations have been on the rise, seeing a 25 percent growth quarter over quarter.
Following the announcement of Apple's partnership with IBM, CEO Tim Cook said he sees the deal as an opportunity for "transforming enterprise" and opening up a "large market opportunity" for both companies.
IBM's first apps tailored to various industries like retail, healthcare, banking, travel, and transportation are expected to be released this fall, with additional apps following in 2015. In recent weeks, Apple has also been heavily pushing productivity apps on the iPad to poise the tablet as more than just a content consumption device, sending out emails promoting iWork and Microsoft Office and cutting the prices on many productivity apps.