Apple has announced on its website (via ifoAppleStore) that it will open its third store in the Netherlands this Saturday, August 9 at The Hague's Passage mall. Job listings for the store were posted over a year ago, as the location itself will join Apple's stores in Haarlem and Amsterdam.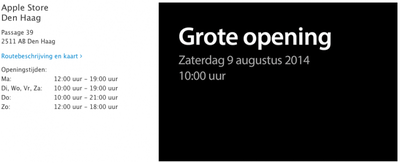 According to One More Thing [Google Translate], the new location in The Hague will also feature a 360-degree Genius Bar, which will be accompanied by Apple's trademark glass exterior and retail store aspects.
Apple's newest retail store in The Hague will open at 10 AM this Saturday, August 9. As with the company's other retail openings, it is expected that those first in line will receive a free t-shirt commemorating the new store.