Apple Releases OS X Yosemite Developer Preview 4, Public Beta Coming Later This Month
Alongside iOS 8 beta 4, Apple today released a new version of OS X Yosemite to developers, two weeks after releasing the third Developer Preview and over a month and a half after introducing the new operating system at its annual Worldwide Developers Conference.
The update can be downloaded from the Mac App Store or through the Mac Developer Center. Apple has also released iTunes 12.0, Yosemite Recovery Update 1.0, OS X Server 4.0 Developer Preview, and Apple Configurator 1.7 beta. iTunes 12 includes an "elegant new design" and introduces support for Family Sharing, a feature first announced during WWDC. The update also includes improved playlists and a redesigned Info Window.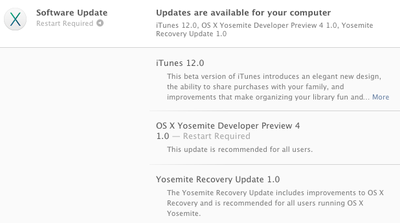 OS X Yosemite brings a flatter, more modern look to OS X, with an emphasis on translucency and redesigned dock, windows, and more. It also includes a multitude of new features, such as improved integration with iOS 8 through Continuity, a new "Today" view in Notification Center that offers integration with third-party apps, a retooled Spotlight search with new data sources, and several new features for apps like Mail, Safari, and Messages.
Yosemite is currently only available to developers, but Apple plans to offer a beta version of the software to Mac users at some point during the summer, possibly as early as this month. A source that spoke to 9to5Mac suggests the beta is coming in late July, though it could be pushed back until early August if Yosemite is not ready in time.
New Features:
iTunes 12 - The newest Yosemite beta includes a revamped version of iTunes with a simple, streamlined design and support for Family Sharing.


iTunes 12 icon - The icon for iTunes has also changed with the new iTunes 12 beta.


Calculator - The Calculator app in OS X Yosemite has been redesigned.


Dark Mode Settings - Dark Mode settings have been tweaked slightly and there's a new checkbox to turn the feature on and off for the dock and menu bar.