Smartphone Manufacturers 'Lukewarm' on Sapphire, Call Material Impractical Due to Cost and Supply
Rumors have suggested that Apple is using the sapphire garnered from its partnership with GT Advanced to produce sapphire crystal displays for the iPhone 6, and if true, such a move would normally inspire competitors to produce their own devices with sapphire displays.
It does not appear, however, that other major smartphone manufacturers are ready to adopt sapphire as a display solution, due to the expense of the material and its quality compared to the more popular Gorilla Glass.
Engadget, in an in-depth piece on sapphire displays, contacted multiple representatives from major smartphone companies, who had researched sapphire as a possible material and largely decided against it. LG, for example, said the material was too expensive.
"The cost and supply aren't where we'd like them to be for sapphire to be practical just yet," said Ken Hong, Global Communications Director for LG. "Sapphire's durability and scratch-resistance are certainly attractive, but Gorilla Glass isn't going to be displaced anytime soon."
Sapphire is astronomically expensive compared to alternatives like Gorilla Glass, with a pane costing $30 compared to $3. Apple's partnership with GT Advanced has allowed Apple to help fund advanced sapphire production methods that significantly lower manufacturing costs, however, a feat that most manufacturers will be unable to match.
A look at how GT Advanced produces sapphire
Sapphire is an appealing option due to its extreme hardness and its scratch resistance. Rated at a nine on the Mohs hardness scale, few materials aside from diamond can scratch sapphire, but as one representative pointed out, sapphire is highly brittle. "The sapphire is too hard to withstand bending. It's easier to break during drop tests when the size of sapphire increases."
Gorilla Glass manufacturer Corning has heavily criticized sapphire for the same reason, noting that its own product can withstand 2.5 times more pressure. Corning has also pointed out that Gorilla Glass is cheaper, far lighter, and more environmentally friendly as it takes less energy to produce. Sapphire also transmits less light, making it both dimmer and less clear unless specially treated.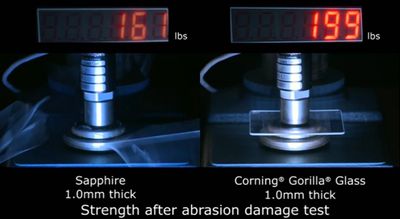 Strength test conducted by Corning, showing sapphire shattering at 161 pounds while Gorilla Glass survives


Yet another representative suggested that sapphire simply doesn't make sense except from a marketing standpoint, which would certainly work for Apple as a way to distinguish itself as a more luxury smartphone option. Apple has always stood out from other manufacturers with its insistence on quality over price, setting it apart as a premium brand.
Though rumors have indicated Apple is planning to use sapphire displays in its smartphones, it remains unclear if the iPhone 6 will indeed feature a sapphire screen. It is possible the company's sapphire is reserved for a different project, the iWatch, and it is also possible, based on circulating rumors, that only the larger 5.5-inch iPhone 6 will be equipped with a sapphire display.
Either way, it's likely we will get our first glimpse of an Apple product that utilizes sapphire crystal later this year and as Engadget points out, it is likely that manufacturers will take advantage of sapphire for products like smart watches, later transitioning to larger products as supply techniques and production improve.