Apple today launched a new $49 Mac Pro Security Lock Adapter in its online store, offering users of the new Mac Pro a way to easily secure their machines using existing Kensington locks. Previously, users had to resort to custom building their own locks or ordering more expensive third-party solutions.
Apple's lock adapter is a simple metal bracket that secures the lift-off cover of the Mac Pro to the base of the machine with a security cable, preventing access to the machine's internals. The cable lock can then of course be secured to a bulky object or dedicated security ring found on some desks to make it difficult for thieves to steal the machine.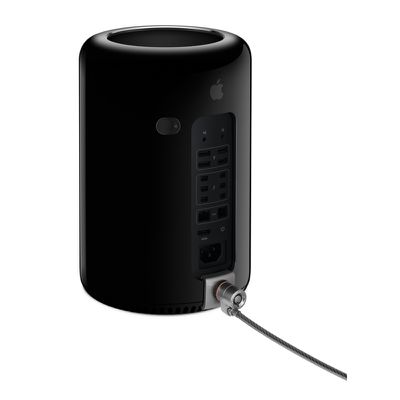 The Mac Pro Security Lock Adapter lets you use a compatible Kensington or similar style third-party lock (sold separately) to keep your Mac Pro secure. The adapter attaches without tools and does not modify or damage the Mac. With a compatible lock connected, the Mac Pro Lock Adapter secures the housing to the enclosure, preventing access to internal components.
Since the Mac Pro's appearance in its retail stores, even Apple has had to use alternate methods to secure the machines, opting for an Ethernet-based alarm system that simply sets off an alarm when the Mac Pro is removed rather than securing it in place.
The Mac Pro Security Lock Adapter is available now in the Apple Online Store for $49. The adapter is not yet being offered for immediate pickup in Apple's retail stores, but will presumably be making its way to the company's stores around the world in the coming days.