Teardown of New 16 GB iPod Touch Reveals Same Internals and Layout as Larger Capacity Models
The teardown experts at iFixit have promptly torn down Apple's refreshed 16 GB iPod touch, a day after the device was announced and went on sale. The $199 iPod touch is Apple's new entry-level touch model, adopting the camera and color options of the existing fifth-generation models.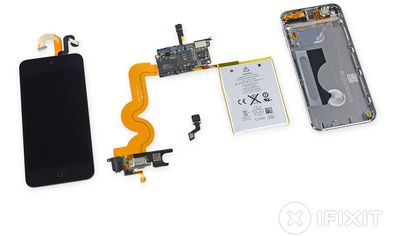 The teardown analysis of the 2014 16 GB model found no significant changes from Apple's current 32 GB and 64 GB iPod touch models, which were released in 2012. This "refreshed" device includes the same components as the existing 32 GB iPod touch variant, but with half the storage.
At least, that's the way this camera-laden, 16 GB iPod Touch came to be. We delved inside Apple's "refreshed" device and found the same components we'd seen in Touches of yesteryear, but with 16 GB of on-board flash memory. So it's not really that this 16 GB variant gains a camera — instead, it loses half of its 32 GB of storage.
Apple has on occasion taken the opportunity of minor product updates to test out new components, but there is little evidence of that occurring with the new iPod touch. Several of the chips have slightly different part numbers than seen on the original fifth-generation iPod touch teardown, but it is not uncommon for such components to be tweaked at times over a product's lifetime. Overall, the layout of the logic board components on the new iPod touch appears identical to that of the original fifth-generation model, providing no evidence of any significant internal changes.
Besides hardware components, the 16 GB iPod touch also shares the same poor repairability of its higher capacity counterparts. As noted in iFixit's original teardown of the fifth-generation iPod touch, the device received a 3 out of 10 repairability score because of its non-removable battery and linked components that must be replaced in groups.
Apple's fifth-generation iPod touch is recognized for its ultrathin form factor and its bright color options, but the hardware is more than a generation behind, with an A5 processor and 5-megapixel iSight camera that put the device's internals on par with the iPhone 4s.
Even with the relatively dated hardware, however, it is unclear when we should expect a more substantial upgrade for the line. Apple traditionally uses its September event to unveil new iPod hardware, but with iPod sales in decline and this recent refresh and price drop to rekindle interest in the device, it is unlikely that Apple will make further changes to its iPod touch lineup in the immediate future.