Apple Launches New 16GB iPod Touch for $199, Drops 32/64GB Models to $249/$299
Following our report from earlier today, Apple has launched its new entry-level 16 GB fifth-generation iPod touch, while also cutting the price on the current 32/64 GB iPod touch, offering them for $249 and $299, respectively. The new iPod touch is available in six different colors with a rear camera and a lower price tag of $199.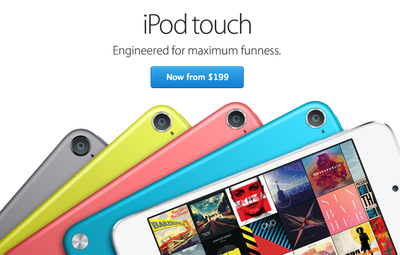 The 16 GB model now offers the same features as the larger capacity models, although the Loop wrist strap is sold separately on the 16 GB model and included with 32 and 64 GB models.
The fifth-generation iPod touch originally debuted in October of 2012 with a $299 price tag, but Apple expanded the lineup with a lower-cost, silver-only 16GB model that shipped without a rear camera and lower price point of $229. This new $199 16GB model replaces the $229 model in Apple's iPod touch lineup.
Update: Apple has issued a press release announcing the update.