iFixit Tears Down Apple's Fifth-Generation iPod Touch
The teardown experts at iFixit have turned their attention to Apple's fifth-generation iPod touch, moving quickly to examine the internals of the company's redesigned device.
The teardown reveals few surprises, but offers a good look at how Apple has been able to pack all of the components into a body that has 20% less volume than the iPhone 5. With a lack of cellular communications technology, the iPod touch carries fewer components and consolidates them into just a handful of parts. Most notably the logic board and battery are smaller than seen in the iPhone 5 and carry a top-and-bottom layout as opposed to the side-by-side layout seen in the iPhone.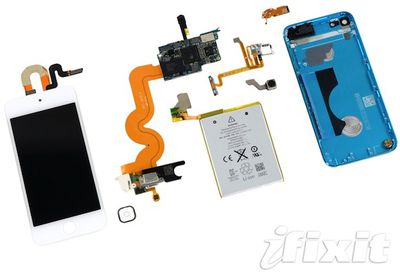 One aspect of the teardown that did catch our eye is the Lightning connector and headphone jack assembly, which contains a long ribbon cable extending from those ports at the bottom of the device up to the logic board at the top. This part was seen several times back in August and was at the time claimed to be for the "iPad mini".
Those claims led to confusion over whether the iPad mini's headphone jack would be located at the bottom as on the iPhone 5 and the iPod touch or on the top as in the full-size iPad and as seen in mockups and cases reportedly based on leaked iPad mini design specs. With the appearance of this part in the iPod touch, the discrepancy has now been resolved and signs are pointing to the iPad mini's headphone jack being along the top edge of the device.


Other aspects of the device are fairly standard, with the logic board revealing Apple's A5 system-on-a-chip, flash storage from Toshiba, and the usual assortment of chips for handling Wi-Fi, touchscreen functions, gyroscope, and more.
Overall, iFixit found the new iPod touch to be difficult to repair, with many components soldered together and the device held together with adhesives and clips that make it difficult to open. The revelation is not a surprise, as Apple does not intend its mobile products to be user-serviceable and the company's efforts to push the limits of design and size reduction have led it to sacrifice accessibility.