Microsoft today announced that it will provide up to $650 in store credit for select MacBook Air models, in an effort to get MacBook Air owners to switch to the company's new Surface Pro 3, which it claims has the "power of a laptop in a lightweight, versatile form." Trade-ins must be conducted within a Microsoft retail store.
First announced in May, the Surface Pro 3 offers a 12-inch display, a thin design, Core i3, i5, or i7 processors and a new Surface Pen stylus with 256 levels of pressure sensitivity, aiming to compete with Apple's ultra thin MacBook Air. Previous Surface tablets were designed to take on Apple's line of tablets, but Microsoft is poising its newest version as a MacBook Air competitor.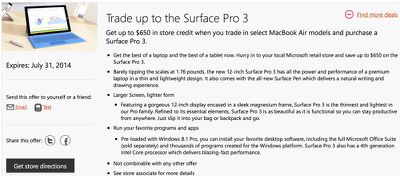 The entry-level Core i3 Surface Pro 3 retails for $799, with improved versions sporting a Core i5 and Core i7 processor available at prices between $999 and $1949. With the discount for turning in a MacBook Air, customers could pay just $150 for an entry-level model.
According to the terms of the deal, trade-in values may vary, which suggests that only good-condition current-generation MacBook Airs will be eligible for the full $650 credit. It is not clear how much Microsoft is offering for older models at this time.
MacBook Airs eligible for trade-in must power on and be in working condition. Water-damaged devices and those with cracked screens may not be traded in. A purchase of the Surface Pro 3 is also required to get the maximum trade in value, and Microsoft plans to run this deal through the end of July.