Microsoft Introduces Thinner Surface Pro 3 with 12" Display Starting at $799
Microsoft today hosted a media event in New York City to introduce the Surface Pro 3, the company's next-generation tablet device. Billing the Surface Pro 3 as the culmination of a three-year effort to create a "tablet that can replace your laptop", Microsoft's Panos Panay highlighted a number of improvements over the previous generation, including a larger 12-inch display with 3:2 aspect ratio, thinner design, an improved stylus, and a full friction kickstand that gives users greater flexibility for adjusting viewing angles.
Pricing begins at $799 with pre-orders starting tomorrow and availability of select models coming on June 20 in the U.S. and Canada. Availability will expand with additional models and countries in August.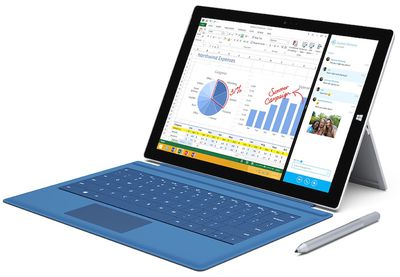 Based on Intel's Core i3, i5, or i7 processor, Surface Pro 3 measures 9.1 mm thick and weighs 800 grams, making it thinner and lighter than a MacBook Air, with Panay placing the two devices on a scientific balance scale to highlight the difference in weight.
The Surface Pro 3 also comes with a new Surface Pen stylus offering 256 levels of pressure sensitivity. During the presentation, Panay highlighted how the very thin optical stack of the Surface Pro 3 brings the content close to the surface of the tablet, allowing for greater precision with the stylus and which makes it appear as if ink is flowing directly from the pen tip. Integration with OneNote makes it easy to jot down notes on the Surface and have those notes uploaded to other devices, and the Surface Pen's button can be used to wake the tablet to take notes and then upload to the cloud when finished.
In support of its argument that the Surface Pro 3 can replace a notebook computer, Microsoft partnered with Adobe to show a preview of Photoshop optimized for the tablet device, with larger icons and support for both stylus and touch input.
The entry-level $799 Surface Pro 3 model carries a Core i3 processor with 4 GB of RAM and 64 GB of storage, with Core i5 models priced at $999 (128 GB storage, 4 GB RAM) and $1299 (256 GB storage, 8 GB RAM). High-end Core i7 models with 8 GB of RAM will be available for $1549 (256 GB storage) and $1949 (512 GB storage). Battery life is pegged at up to nine hours of web browsing.
Alongside the Surface Pro 3, Microsoft also introduced several new accessories, including a new $130 Type Cover that is thinner than its predecessor while offering a much larger trackpad. A $200 docking station converts the Surface Pro 3 into a desktop workstation, including Ethernet, Mini DisplayPort, USB, and audio ports.