Simplistic 'Yo' Messaging App Soars in App Store Charts, Proves Vulnerable to Hacking
The Yo messaging app [Direct Link] debuted earlier this year and recently rocketed up the iOS App Store charts, where it currently sits at number five among top free iPhone apps in the United States. The simplistic app that does nothing more than allow users to ping contacts with a simple "Yo" message may be gaining traction with its quirky ease of use, but a hack, confirmed by Yo founders to TechCrunch, may put users' personal information at risk.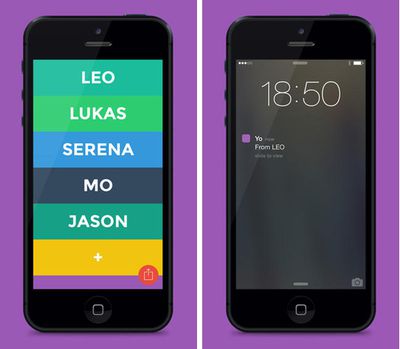 According to the TechCrunch report, a student at Georgia Tech discovered a flaw that allows a nefarious user to discover the phone number of another Yo user, spoof a message from any Yo member and send a text-based push notification to recipient devices. Yo founder Or Arbel confirmed to TechCrunch the service was having "security issues," but did not provide details on the vulnerability, only stating that the issues will be resolved soon.
Founder Or Arbel has now confirmed that Yo was "having security issues".

He told TechCrunch: "Some of the stuff has been fixed and some we are still working on. We are taking this very seriously."

He said he could not reveal which hacks were still live. He said the company has brought in a specialist security team to deal with the issues

Arbel said he hoped the security problems would be fixed "in next few hours."
According to Valleywag, the idea for Yo came from Israeli investor and Mobli CEO Moshe Hogeg, who wanted an easy way to communicate with his secretary. Developer Or Arbel ran with the idea and created the Yo app, which Hogeg uses. Life Before Us LLC, the company created by Abel, recently received $1 million in angel funding to continue development of the Yo app.