Apple Cuts Prices on Mac Mini and Apple TV in Europe, iMac in UK
On the same day it launched a new entry-level iMac model, Apple also used the downtime to adjust the prices on other hardware in some European markets. The price cuts we've noticed affect European models of the Mac mini, the European Apple TV and iMac models in the UK.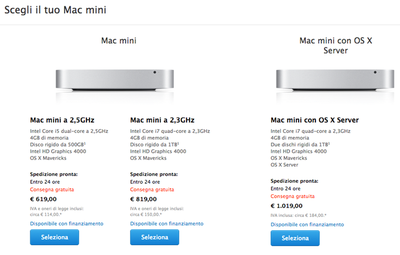 Pricing on the Mac mini dropped between €30 and €60, depending on the country and model. Most European stores are now offering the entry-level Mac Mini for €619 with the quad-core and OS X server models selling for €819 and €1019, respectively, although some euro countries such as Germany are showing slightly lower pricing of €599/€799/€999. In the UK, the entry-level Mac Mini remains the same at £499, with price drops between €30 and €50 being applied to the quad-core and server models.


Apple also cut the prices on the Apple TV in Europe, reducing the cost by €10/£20. The once €109/£99 media streaming device is now available for €99/£79 throughout most of Apple's European stores. While Europe saw a reduction, the Apple TV price remains the same in the US at $99.
Along with the new entry-level 21.5-inch iMac, Apple UK also lowered the cost of existing iMac models. The existing 21.5-inch models were lowered by £100, while the 27-inch models saw similar reductions of £150. The reduction appears to limited only to the UK with most of Europe and the US still selling the iMac at its original pricing.