Adobe Announces 'Ink' Stylus and 'Slide' Ruler Duo, New Mobile Apps
Adobe today announced the launch of a new suite of mobile apps and accompanying hardware that includes its Adobe Ink digital pen and its Adobe Slide digital ruler. Previously known as the "Mighty" stylus and the "Napoleon" digital ruler while in development, Adobe's new tools were created in partnership with Adonit, the company behind a line of popular styluses.
Adobe's three-sided aluminum Ink stylus is pressure sensitive and connects to Creative Cloud, allowing users to access photos, color palettes, drawings, and more, while drawing within Adobe's mobile apps. Adobe Slide, the ruler that accompanies the stylus, is designed to enable precision sketching, including straight lines, perfect circles, and balanced shapes on Apple's iPad.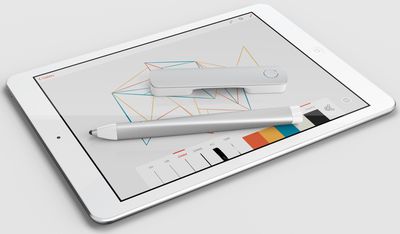 The Ink and Slide are complemented by two new iPad apps, Adobe Sketch and Adobe Line. Sketch is a social sketching app for free-form drawing, with a set of simple tools (pencil, ink pen, blending markers, and eraser) and Behance integration to share sketches with the creative community. Line allows iPad users to create precision drafts and drawings, with a reimagining of traditional tools like rulers, T-squares, and shape templates.
Along with Line and Sketch Adobe is introducing Photoshop Mix, an iPad app that interfaces with Photoshop on the desktop and makes it easy for users to do masking and compositing of images. It's a simple way to create masks on a touch screen, which can then be transferred to the desktop version of Photoshop. It is able to open PSD files and it includes features like Content Aware Fill and Camera Shake Reduction.


There are also new Creative Cloud apps for the iPhone and the iPad, which allow Creative Cloud members to access and manage their files and assets from their mobile devices. Finally, the mobile version of Adobe Lightroom, initially available only for the iPad is now expanding to the iPhone.
Adobe's new apps have been built using the Creative SDK, which is currently undergoing private beta testing but will be released to developers in the future, allowing for additional apps that will be able to take advantage of Adobe's new hardware and Creative Cloud connectivity.
Adobe has also updated all of its Creative Cloud apps for the desktop and introduced expanded Creative Cloud profiles to improve connectivity between mobile devices and apps.
Ink and Slide, Adobe's new hardware tools, are sold in a set and are available immediately from Adobe.com for $199. Ink and Slide are currently limited to U.S. customers only, but Adobe has plans to expand availability in the future. Adobe's new apps, Sketch, Line and Photoshop Mix will all be from the App Store today for free, as will the new Creative Cloud app and Lightroom for iPhone. Download links below:
- Adobe Line [Direct Link]
- Adobe Sketch [Direct Link]
- Photoshop Mix [Direct Link]
- Lightroom for iPhone [Direct Link]
- Adobe Creative Cloud [Direct Link]