Adobe today announced that all of its Creative Cloud desktop apps, including Photoshop, Illustrator, InDesign, Dreamweaver, Lightroom, Premiere Pro, and more, will receive updates that improve the efficiency of work flows and boost performance.
Photoshop CC, for example, will gain new Blur Gallery motion effects for creating a sense of motion, a Focus Mask for selecting focus areas and highlighting portrait shots with a shallow depth of field, new Content Aware capabilities, and a new Perspective Warp for adjusting the perspective of a specific part of an image.
The update also includes enhanced Mercury Graphics Engine performance, the ability to link Smart Objects to be shared across multiple documents, and improved Layer Comps.
Illustrator CC gains Live Shapes to transform rectangles into complex shapes and back, while in InDesign CC it's now possible to select table rows and columns and use the EPUB fixed layout to create digital books.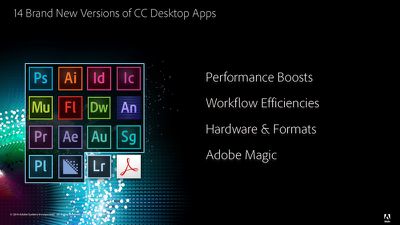 Adobe's video apps now include Live Text Templates and Masking and Tracking, with Premiere Pro CC gaining enhanced graphics performance. After Effects now includes new keying effects, while SpeedGrade CC has a more flexible Direct Link color pipeline and Audition has enhanced multi-track tools.
Along with updates to all of its Creative Cloud apps, Adobe is expanding Creative Cloud profiles to improve the connectivity between mobile and desktop apps. Profiles will include stored files, photos, fonts, and preferences, which can be accessed on both desktop and mobile apps, allowing files to be seamlessly shared between apps.
The new CC desktop apps, mobile apps, and hardware are tightly integrated through Creative Cloud services. This integration helps liberate the creative process by enabling users to access and manage everything that makes up their creative profile -- their files, photos, fonts, colors, community and more -- from wherever they work.
Adobe today also introduced both a new suite of mobile apps designed with its new SDK and two new tools, the Adobe Ink and the Adobe Slide, detailed in a separate post.
Adobe's new Creative Cloud updates are available to Creative Cloud subscribers for free. Adobe offers individual Creative Cloud memberships starting at $49.99 per month for new customers, $29.99 per month for existing CS customers, and $19.99 for students. Adobe has also announced plans to make its $9.99/month Photography bundle, with access to Photoshop CC and Lightroom 5, permanent and available to all users, and the company is debuting expanded offerings for education and enterprise.