Apple Offers Discounts on Hachette Pre-Orders Amid Publisher's Dispute With Amazon
Apple is offering discounts on several popular e-books from Hachette Book Group, the publisher currently embroiled in a dispute with Amazon. As noted by Re/code, Apple is promoting a sale on several Hachette titles under a "Popular Pre-Orders: $9.99 or Less" section in the book section of the iTunes Store, which includes upcoming titles from major authors like James Patterson, Michael Connelly, and J.K. Rowling (under pen name Robert Galbraith).
While Apple does not specifically mention the books on sale are published by Hachette, every book in the 26-book section is indeed a Hachette title. An Apple PR representative confirmed the promotion to Re/code, but declined to discuss pricing or other details.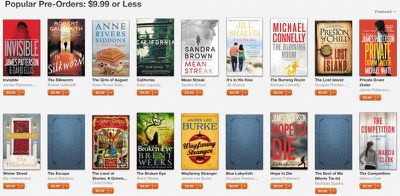 For those unfamiliar with the dispute, Amazon and Hachette have been at war for the last month, after negotiations over profit-sharing failed. Amazon has since refused to take pre-order sales of Hachette books and has also ceased discounting existing Hachette titles, leading to much higher prices, in an effort to get Hachette to agree to better terms.
An Apple PR rep confirmed the promotion, but wouldn't discuss the pricing or any other details. So we have to assume that either Hachette is lowering wholesale prices on its own titles to help Apple tweak Amazon, or Apple is lowering the retail price on its own, and losing margin in order to tweak Amazon.
Amazon released a public statement in May, noting that it was not optimistic about resolving the disagreement with Hachette in the near future. That means Amazon customers must pay more for Hachette books and must wait for books to be launched to make a purchase, a situation that benefits Apple as it is still able to offer customers pre-orders on popular titles.