WebMD Launches 'Healthy Target' Biometric Data Collection Service
WebMD today announced Healthy Target, a service that collects biometric data from activity trackers, wireless scales and other health monitoring devices and uses this information to deliver tips on healthy living. The release comes as a number of companies, including Apple, are looking at ways to integrate health and fitness tracking from a variety of sensors and devices to give consumers an overall look at their health profiles.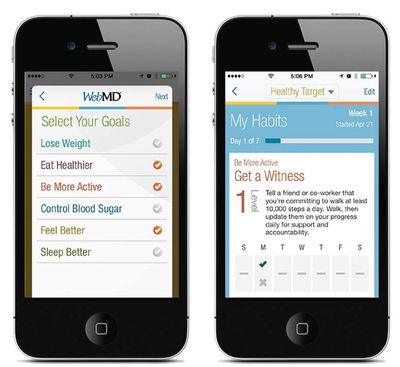 Healthy Target will be integrated into WebMD's mobile app [Direct Link], allowing iPhone owners to aggregate all their health and fitness data into one application. Users will then receive health recommendations and fitness insights using WebMD's physician-reviewed content.
"Consumers will appreciate the ease of incorporating their biometric data into our Healthy Target program and the health insights and recommendations offered to help them sustain a healthier life," said David Ziegler, Director of Product Management for WebMD. "With more than 40%[1] of consumers using mobile devices to access health information, the time is right for a mobile app that can help translate data into life-improving insights."
Besides pulling in step information from the iPhone 5s' M7 coprocessor, Healthy Target also connects to devices from Entra, Fitbit, UP by Jawbone and Withings, with additional manufacturers expected to be announced in the coming weeks and months. According to Re/Code, the service uses the FDA-approved, secure online health repository 2net Platform from Qualcomm to sync this health data.
Healthy Target is one of several recent new health app initiatives including HealthKit from Apple, Samsung's S.A.M.I, and the rumored Google Fit, which may be unveiled at Google's I/O developer conference later this month.
Earlier this month, Apple briefly introduced its new HealthKit platform and associated Health app. Using HealthKit APIs, device manufacturers and app developers can share health and fitness data with Apple's Health app, which will debut with iOS 8. Apple's rumored iWatch product also is expected to be a primary focus of this health and fitness-related platform.
The updated WebMD mobile app with Healthy Target [Direct Link] is available today in the iOS App Store.