Apple Retail Store employees in Australia have reached an agreement with the company on a new four-year contract, bringing the base pay for entry-level employees up to $22.45 ($20.95 USD) and allowing for 2% annual pay increases, reports ifoAppleStore.
The contract (PDF link), which was approved by 90% of the country's retail employees and certified by the Australian government, will go into effect on November 1 and also reclassifies the hierarchy of retail employees to define specific responsibilities.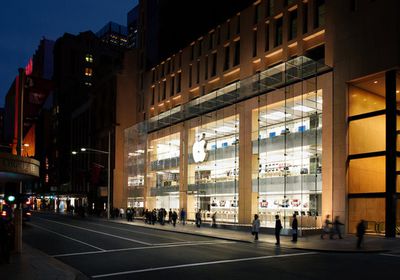 The Apple Store in Sydney, Australia


For instance, Level 1 employees include those responsible for store aspects such as assisting customers and doing repairs, which correspond to Apple Specialist and Genius positions, while Level 2 employees are defined as those who work at a "higher level" than Level 1 employees and/or supervise as designated area of the store. Meanwhile, Level 3 employees perform full managerial duties, and correspond to Apple Business Leader, Store Leader, and Market Leader positions.
When the agreement becomes effective this November 1st, starting pay for full-time Level 1 employees will be $20.95 per hour (all rates in U.S. dollars), and Level 2 will start at $25.26. Casual employees will receive 25 percent more per hour to offset fewer benefits. Level 3 employees are management, and will receive a base annual pay of $72,779. The Level 1 base pay represents a 25 percent premium over the current $16.69 Australian minimum wage. However, the annual pay increases are less than the FWC's 2.6 percent increase in the 2013 minimum wage.
Also included in the new contract are terms on grievance procedures and general working conditions. Notably, workers can receive multiple weeks of "redundancy" pay if Apple determines that a job being performed is no longer required, with compensation depending on age and years of continuous service. Additionally, workers who have a first-aid qualification are paid an extra $29.56 every two weeks, and all workers are also permitted to take two hours off from work to donate blood up to four times a year.
Finally, the agreement touches on the subject of 'Bag Check' inspections, which was the subject of a class action lawsuit last year. Apple Australia states that employees will be required to participate and fully-co operate with the bag and locker inspections, as they "may happen at any time."