Apple Researching Solar Cell Ambient Light Sensors Embedded in Displays
Apple continues to explore the various ways solar cell technology can be used to enhance the operation of electronic devices with a new patent application no. 20140152632 published on Thursday by the U.S. Patent and Trademark office. The document describes a method of using solar cells as ambient light sensors for an iPad, iPhone, or other display-equipped device, reports Patently Apple. The patent application was filed in December 2012, but was just published today.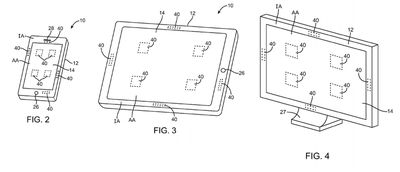 One advantage to integrating the ambient light sensor into the display would be the ability to reduce bezel sizes around the display, allowing more of the device's surface to be dedicated to display. For example, the iPhone currently includes several components embedded in the bezel above the display, including the earpiece, FaceTime camera, ambient light sensor, and proximity sensor. Moving at least some of those components into the display itself could allow Apple to reduce the height of the top bezel.
According to the patent, a solar cell's ability to sense incoming light could be connected to circuitry that adjusts the display brightness in response to the solar cell input, as with current sensors. When not being used to adjust the display, this solar cell technology could provide a trickle charge to the device's battery.
An electronic device is provided with a display and a solar cell ambient light sensor that receives light through a portion of the display. The solar cell ambient light sensor may include one or more thin-film photovoltaic cells. A voltage that accumulates within the thin-film photovoltaic cell in response to ambient light is sampled and converted into ambient light data. The device includes control circuitry that modifies the intensity of display light generated by the display based on the ambient light data from the photovoltaic cell. The solar cell ambient light sensor is attached to a transparent cover layer, a color filter layer, or any other layer of the display. When the accumulated voltage is not being sampled for ambient light measurements, the voltage may be used to provide charge to a battery in the device.
Apple has long expressed an interest in solar cell technology with patent applications and solar-related rumors extending back at least six years. More recently, Apple was awarded a patent that describes a method of integrating a solar panel into a mobile touchscreen device with a flexible display.