Apple Researching Integration of Solar Panels in Flexible Touchscreen Displays
The U.S. Patent and Trademark Office today granted a new Apple patent describing the integration of a solar panel into a mobile touchscreen device with a flexible display, reports AppleInsider.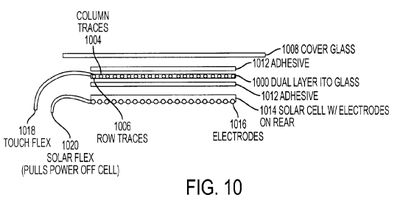 The newly granted patent is a variation on patent No. 8,730,179, which primarily applies to display-less, touch-capable devices, limiting its functionality in contemporary mobile devices. Both patent applications were filed on September 30, 2008, but the expanded version granted today has taken more time to work its way through the approval process.
Today's patent describes a method of stacking solar cells between touch sensor layers within a display matrix to create a compact solar charging system that stores energy in the device's battery. It applies to both glass-covered and flexible plastic displays.
Integrated touch sensor and solar panel stack-up configurations that may be used on portable devices, particularly handheld portable devices such as a media player or phone are disclosed. The solar cell stack-up configurations may include one or more touch sensor layers and one or more solar cell layers. By integrating both the touch sensors and the solar cell layers into the same stack-up, surface area on the portable device may be conserved.
Given the limited power made available through solar charging and the power consumption requirements of mobile devices, this technology likely won't be the main source of power in a device. It could, however, serve as a backup power source or may pave the way for advancements that could increase the efficiency of the system as mobile devices and solar technology improve.
Apple has reportedly explored a number of methods, including solar for charging its rumored iWatch. Other possible methods have included wireless induction charging and kinetic charging that would capture energy imparted as the user's arm moves.