Walter Isaacson, known to the Apple community for his authorized Steve Jobs biography, believes the Apple co-founder would have approved of Apple's acquisition of Beats. Isaacson shared his thoughts on the Beats deal during a CNBC interview earlier today (via Fortune).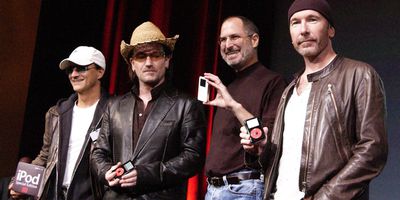 Isaacson points to the close relationship between Beats co-founder Jimmy Iovine and Apple co-founder Steve Jobs, both of whom shared a similar appreciation for music.
Isaacson argues that Jobs and Beats co-founder Jimmy Iovine and Jobs had bonded over their shared love of music, and that Jobs would have been interested in adding Iovine's "cool" factor to the company. "I think Jimmy is the greatest talent spotter now in the music and content business, so it feels like part of the DNA of Apple."
Before the acquisition was announced, Isaacson speculated that Iovine was Apple's real target, bringing the veteran producer on board to head up the Cupertino company's content business. Isaacson said Iovine could "help Apple launch the TV product that analysts have been gossiping about for years," by using his influence in the media business to negotiate content deals. During an interview at the Code Conference earlier this week, however, Iovine noted that he has enough on his plate with music and has no plans to become involved in television negotiations.
Iovine has a long history with Apple, helping Steve Jobs sign deals with music labels in the early days of iTunes and working with Apple and U2 on a special edition iPod. Before the launch of Beats Music, he also pitched the idea of a streaming music service to Apple, but neither Steve Jobs nor Tim Cook was interested at the time.
Upon completion of the acquisition, Iovine and Dr. Dre will join Apple while the Beats team will work under the guidance of Eddy Cue, Apple's senior vice president of Internet Software and Services.